Blogs
---
The Hurston/Wright Foundation has announced the winners for the 2014 Legacy Awards in fiction, nonfiction, and poetry at the 13th annual Legacy Award Ceremony.
The Legacy Awards have recognized literary and arts achievement in the black diaspora for almost a quarter century.
The award winners are listed below. We also recommend reviewing the list of all the 2014 Hurston/Wright Legacy Award nominees. It is a stellar list of books and authors.
The Hurston/Wright Foundation has announced the nominations for the 2014 Hurston/Wright Legacy Award in fiction, nonfiction, and poetry. A winner and two finalists in each category will be honored at the 13th annual Legacy Award Ceremony on Friday, October 24, at the Carnegie Library in Washington, D.C.
Wil Haygood, award-winning biographer and journalist, will serve as master of ceremonies and the program will also feature special guest Nikki Giovanni, the author of the most popular book in Teaching for Change Bookstore, Hip Hop Speaks to Children.
Named for literary geniuses, Zora Neale Hurston and Richard Wright, the Hurston/Wright Foundation was established to be a resource center for training and a gateway to ensure the unique experience and voice of African Americans in literature. The Legacy Awards have recognized literary and arts achievement in the black diaspora for almost a quarter century.
The best part of summer has arrived, the time to select a book (or books) to savor over the weeks ahead.
Each year, the Teaching for Change staff offers recommendations for your summer reading, selected from new releases over the past year. Here is this summer's list of books for children, middle school young adults, and adults in fiction and non-fiction.
With the theme of the World Cup this summer, we have two books on soccer in Brazil. To learn about the history behind the major voting rights anniversaries this decade, there are gripping titles on the people's history of the Civil Rights Movement. There are also titles on the environment, gender stereotypes, education, race, Panama, WWII, and more.
Send us your feedback if you read any of the books and/or let us know what titles you would add to the list.
Remember, whatever you read this summer, please pick up the book at your local library or independent bookstore or webstore. We encourage everyone to boycott Amazon, here's why.
In the last five years, only 10% of children's books published were about people of color despite the fact that 37% of the U.S. population are people of color. 
Rush Limbaugh found out that Teaching for Change is trying to challenge this disparity and he is hopping mad. Limbaugh devoted a long segment of his show on June 16 to tell his listeners that Teaching for Change is racist for featuring children's books by and about people of color. Limbaugh said:
This is exclusionary, it's racist, it's bigoted, and it's the opposite of everything they claim to be. And it's exactly what they accuse us of being. They claim that they're tolerant. They claim they're open-minded. They claim that they are colorblind and all that. They are the most bigoted, racist people.

My two books are in the top five on the New York Times best-seller list, and here's a woman at a bookstore who wants to sell books, is begging people to buy 'em, proudly says that two of the books in the top five are not even available at her store, and she wants accolades for that. These people are loony. They simply are dumb. They don't have the slightest idea what they're doing. And they happen to be running the country. And I don't just mean in Washington. People like this are in charge of the public school system. People like this are teaching your kids. People like this are running day care. People like this show up at Obama's fundraisers.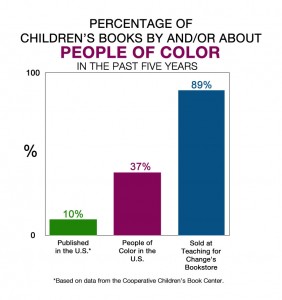 Limbaugh learned that we made the "loony" decision not to carry his best-selling children's books from a new C-SPAN Book TV broadcast at Busboys and Poets (14 & V) where Teaching for Change runs the bookstore and schedules/hosts many of the author events.
Our executive director, Deborah Menkart, introduced the powerful June 9 talk by Dave Zirin for his new book "Brazil's Dance with the Devil: The World Cup, the Olympics, and the Fight for Democracy." In the introduction, also aired on C-SPAN, she described the crisis in children's literature and how we are trying to flip the script by featuring children's books by and about people of color.
She added that this is one of the reasons that, despite the financial odds, we are doing all we can to keep the Teaching for Change Bookstore at Busboys and Poets in operation. In the bookstore we demonstrate that there is tremendous interest in books featuring children of color if they are made visible and available. In fact, close to 90% of the children's books we sell are by or about people of color. Children's books are by far the most popular titles in our store.
by Sarah Slichter
Steve Early, a long-time labor journalist and union activist, gave a rousing talk at the Teaching for Change Bookstore at Busboys and Poets on June 2. In attendance were over fifty activists, unionists, labor movement veterans as well as those who identified themselves as the "youth wing of the labor movement."
To start, Early touched on the main points of his new book, Save Our Unions: Dispatches from a Movement In Distress. He began with a caveat, noting that union struggles are "much easier to talk and write about than to do." The challenge he posed for his talk as well as his book was to make his work relevant to the people involved in the day-to-day grind of reviving the labor movement. In this he was more than successful.
Early noted that there are those who think that the way to strengthen the diminishing power of organized labor is to unite at all costs and feel that "critique has no place." However, he believes that the role of fired-up rank and file workers (rather than all-powerful leadership) is vital, and internal shakeups are what's needed most. He pointed to the Chicago Teachers Union, and their CORE caucus as an example of rank and file who are taking charge to engage their union in a fight that goes beyond union business, encompassing a broader vision of social change.
by Amy Rothschild
In March, Walter Dean Myers and his son Christopher Myers brought national attention to a question often asked by frustrated parents, teachers, librarians, and youth: where are the people of color in children's books? The two authors wrote must-read op-eds featured on the front page of the New York Times Sunday Review. Both testified to the role that books play in mirroring, validating, and imagining the human experience, and the loss incurred for all of us when children of color are left out. These ideas, masterfully written and worth frequent rebroadcasting, are not new.

In fact, Walter Dean Myers wrote a similar op-ed about the invisibility of children of color in children's literature--in 1986. It's worth a read, because it anchors this problem as a worsening one, and also identifies efforts that contributed to a fleeting time of commercial success for authors of color.

In his 1986 op-ed, "I Actually Thought We Would Revolutionize the Industry," Myers wrote:

"The 1960's promised a new way of seeing black people. First, and by far most important, we were in the public consciousness. Angry black faces stared out from our television sets, commanded the front pages of our tabloids. We were news, and what is news is marketable. To underscore the market the Federal Government was pumping money into schools and libraries under various poverty titles. By the end of the 60's the publishing industry was talking seriously about the need for books for blacks."

Myers described the 1960's as a turning point. He outlined how publishers turned to white authors already in the industry to write stories to satisfy the demand for books featuring children of color, until a progressive coalition organized to disrupt that practice:

by Amy Rothschild
As an early childhood educator looking for excellent texts that promote diversity, inclusion, and equity, I looked forward to reading Martín de Porres: The Rose in the Desert, written by Gary D. Schmidt and illustrated by David Diaz. The book tells the story of Martín de Porres, a brother in the Dominican Order in the seventeenth century who was canonized in 1962. Last fall, The Rose in the Desert won major honors in the world of children's literature: a Pura Belpré Illustrator Award, a designation as an ALA Notable Children's Book for Younger Readers, and an honorable mention for the Américas Award. It is vital that children get the chance to hear stories about Afro-Latino history alongside other titles relevant to Black History. These titles must be age-appropriate and they must present their subject matter with dignity. Unfortunately, Schmidt's Martín de Porres is neither age-appropriate, nor does it do justice to the subject.


Nelson Mandela is portrayed as a solitary leader who rose above his people, instead of being part of a liberation movement.
Images: (l) Nelson Mandela and friends sing 'Nikosi Sikelel I Afrika' at the end of their trial for treason in South Africa, 3/29/61. (r) Image from the picture book Mandela.
Mandela, the beautifully illustrated children's book by Kadir Nelson, has been selected as one of the top books on Nelson Mandela by many groups including Colorlines and Kirkus Reviews. Given Kadir Nelson's talents and strong reputation as a children's book author and illustrator, Mandela is likely to become a staple in libraries and classrooms.
One look at the cover and it is easy to see why the book is so popular. Kadir Nelson's illustrations are stunning and the world is tuned into Mandela with his recent passing and the release of the film, Mandela: The Long Walk to Freedom.
Unfortunately, Kadir Nelson's picture book presents the same mythological image of Mandela that has been the norm on the mainstream news. As journalist Bob Herbert lamented, the news media have reduced Mandela to a "to a lovable, platitudinous cardboard character" and the vital role of the anti-apartheid struggle is effectively obscured in the process.
Here are a few of our favorite books from 2013 for children, young adults, and adults. All of these titles would make great gifts for friends, family, and/or yourself.
Visit our Teaching for Change bookstore in D.C. at Busboys and Poets (14th and V) to find many more wonderful 2013 titles.
Remember, wherever you choose to purchase these books, support an independent bookstore.
by Derrick Weston Brown
In most children's books about the history of Hip-Hop, there's often one figure who has continuously been relegated to the background, even though he's the architect of the sound from which Hip-Hop was born.  Clive Campbell, also known as DJ Kool Herc, finally gets his time in the spotlight in Laban Carrick Hill's children's book, When the Beat Was Born: DJ Kool Herc and the Creation of Hip Hop.
Going back to Kool Herc's childhood on Somerset Lane in Kingston, Jamaica and then tracing his eventual immigration to the South Bronx in his teens, Hill pays homage to the Caribbean origins and style that influenced Herc's showmanship and hungry ear as a rising DJ; likewise, illustrator Theodore Taylor III's colorful but not cartoonish pictures, give us a story that's part history lesson and part warm earth tone landscape, capturing the wildness and the warmth of a culture that flourished in project parks and community recreation centers. 
The rights of all blogs, reviews, and articles are shared by Teaching for Change and the writer(s). For permission to reprint any writing on this website
, contact Teaching for Change Publications:
bbpbooks@teachingforchange.org
---